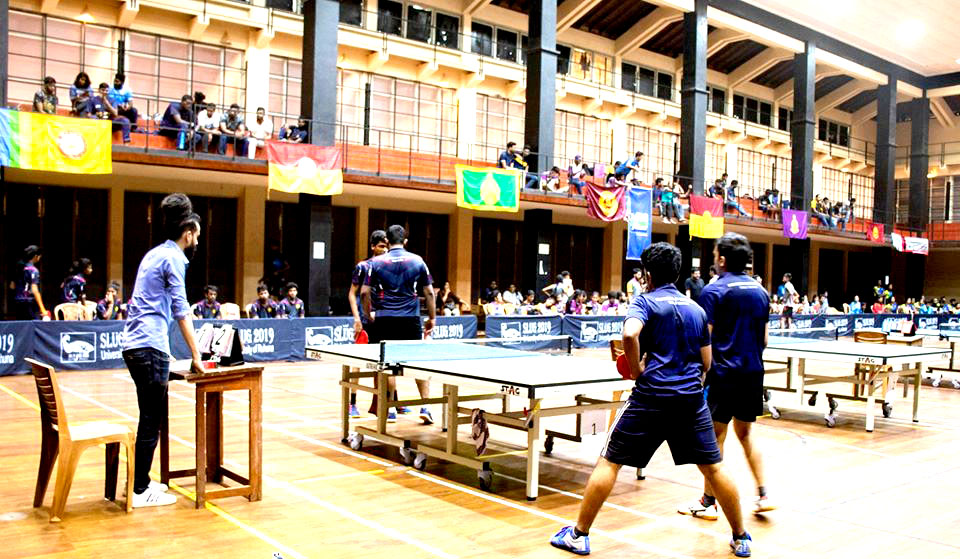 About Us
The main aim of the Physical Education Unit is to produce graduates with good physical and mental standing who possess good leadership qualities and obey common decisions and the law of the nation. Thus, the unit facilitates and encourages many physical education and sports activities.


The University possesses a large Gymnasium which is the third best in Sri Lanka with seating capacity for 3000 spectators. Training facilities for many indoor sports activities are available for students after 12.00 p.m. every week day. The University Playground was commissioned in 1998 and many outdoor sports activities are supported there.


The faculties located outside the main campus are provided with some indoor and outdoor sports facilities.
Sports & Games Offered
Track & Field (Men & Women)
Volleyball (Men & Women)
Badminton (Men & Women)
Table Tennis (Men & Women)
Elle (Men & Women)
Hockey (Men & Women)
Chess (Men & Women)
Basketball (Men & Women)
Swimming (Men & Women)
Rugger (Men)
Football (Men)
Rowing (Men & Women)
Cricket (Men)
Wrestling (Men)
Weight Lifting (Men & Women)
Road Race (Men)
Netball(Women)
Taekwondo(Men & Women)
Carrom (Men & Women)
Base ball (Men)
Karate (Men & Women)
Tennis (Men & Women)
Beach Volleyball (Men)
Kabadi (Men)